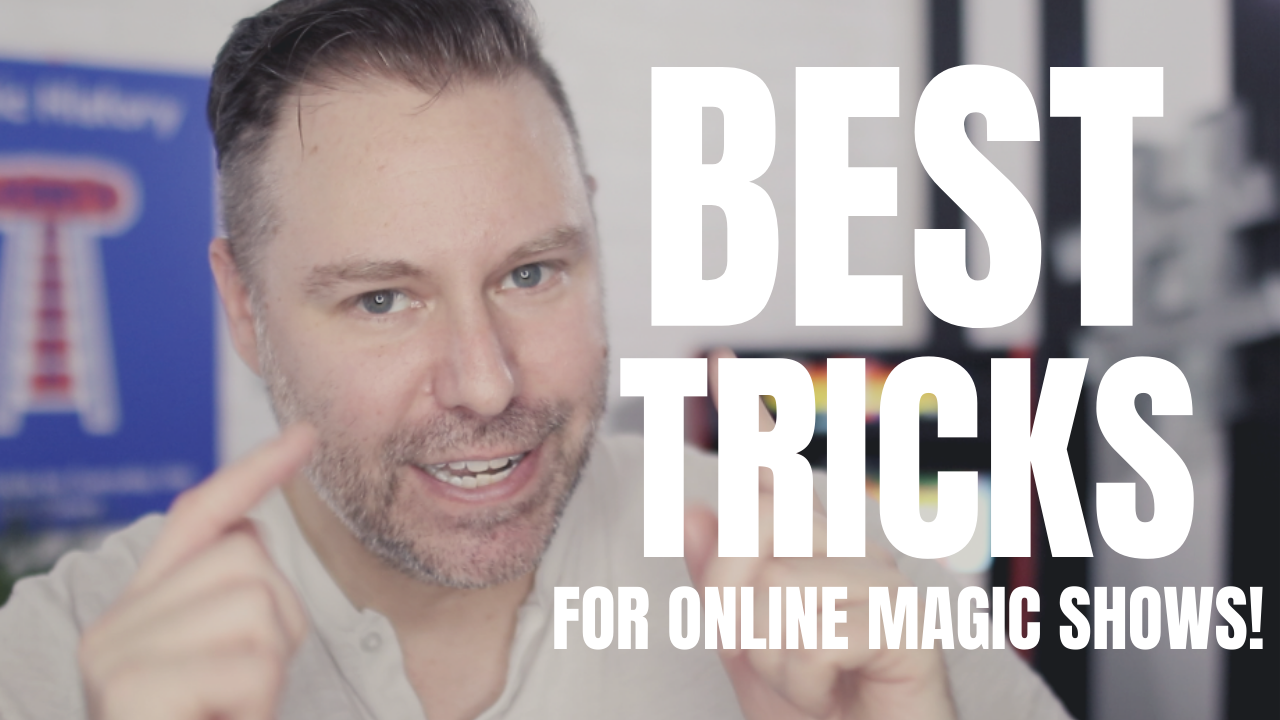 Let's face it......many of us are STUCK at home, at a standstill. But don't let that stop you from performing MAGIC! There are PLENTY of tricks that are PERFECT for filming, and sending to your friends, family, clients, and social media.
Let me give you an example from our dear friend
Dan Frischman
. Dan filmed this YouTube video over the weekend, and it thoroughly entertained us:
https://www.youtube.com/watch?v=Yl9tzuczXrI
Some of you may recognize Dan from his numerous film credits (six seasons on 'Head of the Class', four seasons on 'Kenan & Kel', etc). We want to thank him for sharing that video with us, and we encourage you to see more on his YouTube channel.
TIP:
If you are performing magic from home and want to share it with our audience, just send your videos to us and we will feature some of them on the
MJM Magic Facebook page
!
LOOKING FOR SOME MAGIC YOU CAN SHOW OFF FROM HOME?
With everyone stuck at home bringing their magic online we put together SIX of our favorite 'tricks' that are PERFECT for those Zoom Meetings or online shows!
Here are some suggestions for great tricks that look perfect on camera:
Social Media Magic Volume 1 (DVD and Gimmicks) by Felix Bodden - DVD

Social Media Magic Vol 1 is magic created specifically for online platforms! We can't think of a better time to bust these out.
More Info »
Princess Card Trick (Gimmicks and Online Instruction) by DARYL - Trick

The Princess Card Trick is perfect for interactive calls when you want to read someone's mind!
More Info »
Flash Cash 2.0 (USD) by Alan Wong & Albert Liao - Trick

Flash Cash 2.0 is quick visual magic with money. Who doesn't love money magic?!?!
More Info »
The Professional's Fire Wallet (Gimmick and Online Instructions) by Murphy's Magic Supplies Inc. - Trick

The Professional's Fire Wallet will LIGHT UP any interactive call you're on.
More Info »
Poker Test 2.0 (Gimmick and Online Instructions) by Erik Casey - Trick

Poker Test 2.0 is the PERFECT 'observation test' to fool them good...real good!
More Info »
Ante Gravity - Floating 3 Fly Chip Routine (Gimmicks and Online Instructions) by Matthew Wright

Ante Gravity 3 Fly adds some impossible eye candy that they'll NEVER see coming.
More Info »
-----------------------------------------------------------------------
TIMEBOMB DISCOUNT - Last Chance to Save!
Today, our '
TIMEBOMB
' discount code is down to 6%. That means you can still take 6% OFF your entire order if you use it today! Tomorrow, it will go down to 5%, and by Friday it will be gone!
This is only the second time we have ever unleashed the
TIMEBOMB
discount, and we don't know when it will return. Use that discount code while it's still active and save $$$!!
-----------------------------------------------------------------------
ANNOUNCED TODAY: Here & Now 2 (4 DVD Set) by Dani DaOrtiz
Over six hours of magic on 4 DVDs. This is Dani's live seminar, filmed in his studio, that is full of new concepts, techniques and tricks!
LINK:
https://www.mjmmagic.com/store/here-now-2-4-dvd-set-by-dani-daortiz-dvd-p-30998.html
-----------------------------------------------------------------------
JUST FOR LAUGHS:
Why do sharks only live in salt water?
Because pepper water makes them sneeze.
-----------------------------------------------------------------------