"A brand new feature with one goal - to save you a TON OF MONEY - all throughout the day. EVERY DAY!"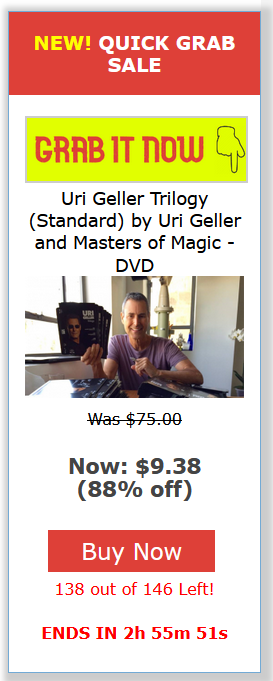 We hope you all had a Merry Christmas! We sure did, and we are SUPER EXCITED to roll out a brand new feature on our website: the QUICK GRAB SALE box!
What is the Quick Grab Sale Box?
Every couple of hours, we are grabbing a random product from our entire warehouse inventory, and we are selling it to you for LOWER THAN WHOLESALE pricing! You literally will be able to pick up these items at a lower cost than most magic stores can even purchase them at!
How much will you save?
Almost all items will be lower than wholesale pricing, so anywhere from 35% to 50% off on average. However, don't be surprised to see deals that are 60-90% off too!
What's the catch?
No catch! Well, not really. The only catch is that:
We will only offer a certain number of units at that special price.
Once those units sell out (or the countdown time expires), the price will JUMP back up.
Take a look at the image to the right. We grabbed 146 units of the Uri Geller DVD set (which normally costs $75.00), and we are selling it for only $9.38 (88% off)! It's on a timer though, so the deal will expire when either the clock runs out, or all 146 units are sold!
Then we will randomly select another brand new item to replace it!
(As you can imagine, that example deal is now over, but head over to our website to view what's currently being offered.)
HOW TO VIEW THE QUICK GRAB SALE BOX?
On a computer, just look in the upper right hand menu of our website, and you will see it sitting there......tempting you.......calling out for you to interact with it!
If you're on a mobile device, just scroll near the bottom of any page that you're on, and you will see it below the content of the current page.
(If you don't see the Quick Grab Sale box, then just check back because that simply means we are compiling a new list of items to throw up there shortly!)
Have fun with this, and you see any bugs or issues with this new feature, just reach out to me (Jeff) and I'll be happy to look at them for you!
------------------------------------------------------------------------------------------------
JUST FOR LAUGHS:
Today, I was offered "a good time" by a smoking hot, 21 year old brunette. In exchange, I was supposed to advertise some kind of bathroom cleaner.
Of course, I said "no" as I have high moral standards and very strong willpower. Just as strong as Ajax, the super efficient bathroom cleaner. Now available in scented lemon or vanilla.
------------------------------------------------------------------------------------------------