"It's coming to an end......today. As in, thousands of items will cost you twice as much if you don't act now!"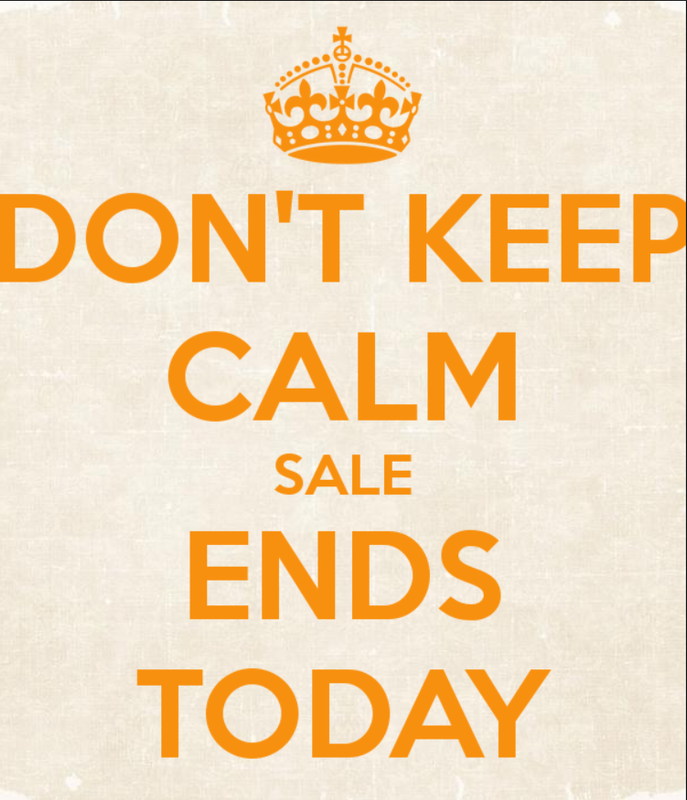 We can hardly believe it, but the end of our HUGE Summer Sale is already here. Today is the last full day to save at least 50% or more off thousands of items.
See the full list here: https://www.mjmmagic.com/store/summer-sale-50-off-c-87.html
Don't just think of it as saving 50%. Think of it like, "All the items in that category are going to cost twice as much tomorrow if I don't get them today."
So if you see something you like, now is the time to purchase it!
A lot of people have been picking up discounted playing cards, but there are so many other great finds on that sale.
Here are the TOP 10 BESTSELLERS of the sale so far:
1.
IMPRISONED (DVD+GIMMICK) by Jay Sankey - Trick


$30.00

$19.99

Sale: $15.00

- SPECIAL OFFER: Order Imprisoned TODAY and receive Jay's fun coin trick called "HYPERSENSITIVE" - Guess the dates on three coins without seeing them. (This is a download and will appear in your Downloads Area after purchase!) Imprisoned Effect: Borrow a coin and have it initialed with...

... more info

2.
Midnight Breakfast (Gimmicks and Online Instructions) by The Other Brothers - Trick


$25.00

Sale: $12.50

- Midnight Breakfast is a gigantic leap forward in the "Out to Lunch" principle as it requires no rubber bands, no clips and is 100% organic with everyday objects. With this invisible gimmick, you can perform every Out to Lunch effect to create powerful, visual moments. The Other Brothers...

... more info

3.
GT Speedreader DVD by Kozmomagic


$20.00

Sale: $10.00

- Instructional DVD for the GT SpeedReader deck. This new design is truly revolutionary. It gives the magician an unprecedented advantage while performing card magic. Chapters: Intro to the deck Designed for Magicians Working with a marked deck Cut Force Classic Force Dribble Force Sloppy...

... more info

4.
Induction (2 DVD Set) by Spidey - DVD


$49.95

Sale: $24.98

- "Spidey is without a doubt the busiest hypnotist I know in today's market and THE authority on modern stage hypnosis." - Shin Lim Warning: This knowledge is not for the idly curious, the contents of this DVD; if studied properly and used ethically, can change your performance game forever! The...

... more info

5.
Black Widow Playing Cards


$11.99

Sale: $6.00

- Its venom is reported to be 15 times stronger than a rattlesnake's. In humans, Black Widow bites can bring on nausea, muscle aches, and make breathing difficult for those who do not respect the ruby-red hourglass warning. Black Widow Playing Cards is perfect for magicians and cardists who want to...

... more info

6.
Double Back 809 Mandolin Back (Blue/Red) - Trick


$4.95

Sale: $2.48

- A full deck of Red and Blue double backed cards with the 809 Mandolin design in a red tuck box.

... more info

7.
Merry Bits and Patter Quips by Richard Merry - Book


$9.95

Sale: $4.98

- A great book PACKED with bits and one-liners for performers. All bits and lines are categorized by effect. Some of the categories include: liquids, cards, ropes, money, kids, dinners, mental, openers, etc. plus much, much more! VERY limited quantities AND a fantastic price!

... more info

8.
Murphy's Magic Signature NOC Playing Card


$7.95

Sale: $3.98

- As the world's largest magic distributor, we see A LOT of magic and playing cards! We are big fans of the sophistication and quality of the NOC playing card line -- so it was a natural fit to partner with the House of Playing Cards and The Expert Playing Card Company to bring you the Murphy's Magic...

... more info

9.
Divine Playing Cards by The United States Playing Card Company


$9.95

Sale: $4.98

- "That deep emotional conviction of the presence of a superior reasoning power, which is revealed in the incomprehensible universe, forms my idea of God." - Albert Einstein A DIVINE deck: The Divine Playing Cards was designed using a mathematical pattern discovered in 1200 A.D. that seems...

... more info

10.
Infinitas Playing Cards


$9.95

Sale: $4.98

- Creativity is boundless, endless, unlimited. A world of possibilities. The Infinitas Playing Cards , designed by Rian Lehman, is a tribute to the world of infinite possibilities and interconnectivity. Printed by US Playing Card Company, with all custom art (pips, faces, even the indices), the theme...

... more info
To see more items, you can click one of these links to narrow down your Sale Items by price range:
---------------------------------------------------------------------------
JUST FOR LAUGHS:
What do you call a computer mouse that swears a lot?

A cursor!
---------------------------------------------------------------------------