"Secretly control and retrieve the spectator's signed card instantaneously!"
This is called ABANDON for a reason, because once you use it, you will completely abandon your old card box!
With this specially designed box, you can pull out a spectator's signed card at will!
Imagine the specator names ANY NUMBER, and their signed card is exactly at that number!
Or imagine putting the cards inside the box, closing it up, and in less than a second, being able to immediately extract from your pocket the spectator's signed card!
WATCH THE DEMO:
https://www.mjmmagic.com/store/abandoned-red-gimmicks-and-online-instructions-by-dennis-reinsma-peter-eggink-trick-p-30296.html
This comes in either RED or BLUE bicycle design, so choose the version that you use the most!
We begin shipping very soon, and the price is perfect for this kind of device!
-------------------------------------------------------
ALSO RELEASING THE SAME DAY: THE BLUE ILLUSION
The cleanest all around color changing box your spectators will ever witness. All 6 sides can be clearly shown. Then, with no force, your spectator names any card and you show it to be the only blue backed card in the entire deck. An easy to do, Mark Mason ingenious effect. Comes with gimmicks. Supply your own USPCC Bicycle deck.
LINK
:
https://www.mjmmagic.com/store/blue-illusion-gimmick-and-online-instructions-by-yarden-aviv-and-mark-mason-trick-p-30299.html
"I must say that this looks so good. It is by far the cleanest ALL-AROUND color-changing card box I have ever seen."
- Mark Mason
Shipping in just a few days, so preorder it now!
Link
:
https://www.mjmmagic.com/store/blue-illusion-gimmick-and-online-instructions-by-yarden-aviv-and-mark-mason-trick-p-30299.html
-------------------------------------------------------
LAST DAY TODAY - 50% OFF SALE
Yep, today is the very last day of our extended Black Friday Sale! We started with over 2000 items that were discounted by at least 50% off......now we are down to about 1800 items......but they will all go back up in price tomorrow.
Check out the list here (broken down into price categories for your convenience):
-------------------------------------------------------
JUST FOR LAUGHS:
You know what's worse than shaking someone's wet hands after they've used the restroom?
Shaking someone's dry hands after they've used the restroom.
-------------------------------------------------------
MJM PERSONAL PEEKS: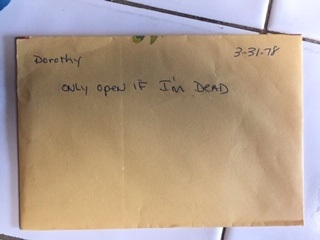 So my dad passed away one month ago today (on November 9th). Yesterday, I was sitting with my mom and brother. We were talking about my dad, and wondering if he was hanging around watching us, or if he was busy up in heaven doing some kind of work.
If only we could hear from him
........
Well, my mom asked that we start to clean out some of my dad's things (like his dresser, go through his clothes, etc). One of the things we opened was his safe.
Inside of the safe, hidden inside of his High School Diploma, there was a small envelope which fell out. On the front of the envelope, it said. "Only open if I'm dead." Then there was a date on the envelope: March 31st, 1978.
My dad had sealed this envelope 41 YEARS ago......and it went undiscovered until now. We opened the envelope, and inside was a note in my dad's handwriting. It was addressed to my mom, myself, and my brother.
As we read the note together, we were all crying. In the letter, my dad was saying how proud he was of us, and that he's sorry that he can no longer be there to watch us go on with our lives.
It was as if he reached out through time and across heaven, and he was giving us this personal message from him.
It's so fascinating that we found this letter when we were all there at the same time. (Had my mom found it on her own, it wouldn't have been the same.......but we happened to find it when we all were in the same room, and the letter was addressed to all three of us. Amazing).
I just wanted to share that with you, because it's one of the many confirmations I feel we receive from the other side when a loved one passes away. Like I said, we just were talking about my dad and wondering if he was there, and then 10 minutes later, we get a note from him, written 41 years ago, in his own handwriting and talking directly to us. #MindBlown
If anything like that has ever happened to you, please feel free to share it with us!
-------------------------------------------------------